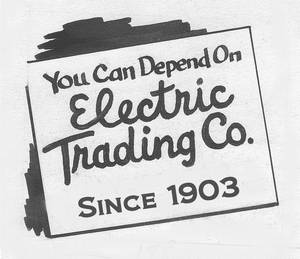 Electric Trading Company: Since 1903!

We're very proud to have been serving the industry for more than a century as a source for factory new, new surplus and used industrial equipment.
We have many products available "off the shelf" - ready for immediate shipment. Some items are built to customer specifications with typically quick lead time, and shipping is available to customers around the world.
Electric Trading Co. was originally founded in 1903 as a refrigeration equipment manufacturer. In the years that followed it expanded into motor manufacturing and motor rewinding.
In 1946 the business met with expansion and grew to include an engineering staff for the manufacturing of piston type, single and two stage air compressors up to 25 hp.
In the 1970's the company streamlined it's operations for efficient manufacture and distribution of related diverse types of equipment.
Electric Trading Company is now specializing in the fabrication and assembly of air moving equipment such as blower wheels, industrial and explosion-proof exhaust and pedestal fans & centrifugal pressure and volume blowers.
We are strategically positioned with inventory of thousands of components for quick assembly and the fastest possible order shipment minimizing your or your customer's downtime.
We are pleased for the opportunity to quote on your concern's requirement's....and are pleased, as we have been for over 110 years...to deliver accordingly....

Thank You,
Electric Trading Company